Hottest Automated Website Testing Trends to lookout for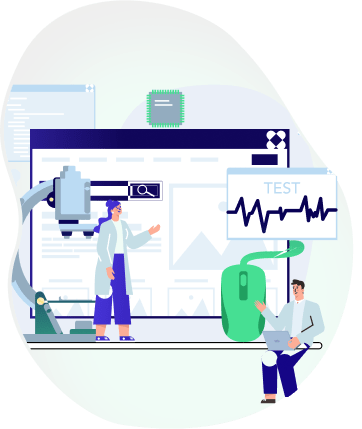 Speed, efficiency, accuracy, maintenance, and costs. These are constant challenges during automated website tests.

Now factor in aspects like the need for comprehensive coverage, shorter release cycles, and faster go-to-market mandates. The situation can get quite complicated for QA professionals. This is where recent automated website testing developments attempt to overcome existing limitations.

Join us as we survey these trends to see how these transform website testing processes.

Trend #1

AI is here to stay
QA professionals are no strangers to AI due to its widespread use for testing websites. This has been the case even in the 'pre-ChatGPT' days. On this front, the deeper integration of AI and Machine Learning (ML) promises to further transform automated software testing.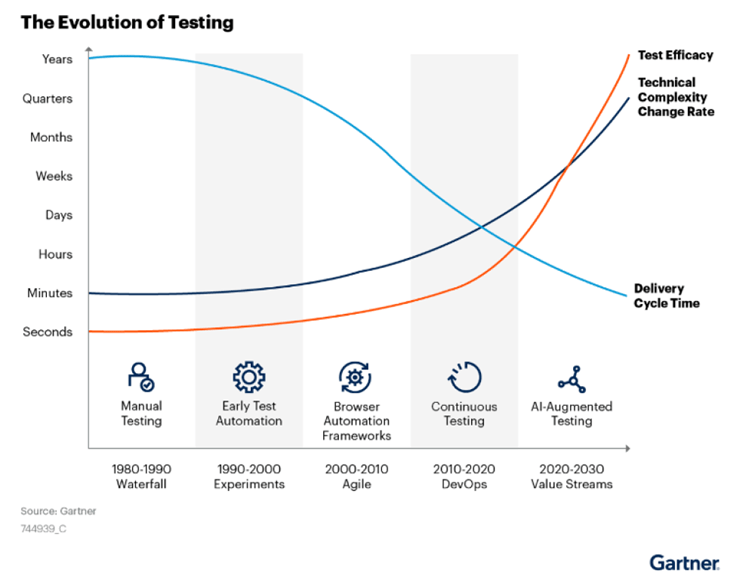 According to Gartner, AI-augmented testing delivers significant advantages like test efficacy, technical complexity, and delivery cycle times. AI's utility to create comprehensive test cases and avoid duplication of efforts is one such use case.

Today, AI-enabled features are quite in vogue for use cases, right from automated website testing to visual tests. AI augmentation overcomes automated testing challenges like flakiness, brittleness, and fragmentation. This is of great assistance to ensure optimal tests and Website functionality across its development lifecycle.

A case in point is Qyrus Healer, which uses self-healing code to mitigate common automation issues like test failures. Healer relies on AI to reduce the effort spent on refactoring and script maintenance. As a result, tests can recover in microseconds with an accuracy of over 99.9%.

Generative AI has also made inroads into website automated testing. For example, Qyrus TestPilot is the world's first ChatGPT plugin to automate Web app testing. This enables testers to generate tests using natural language queries. It can also identify Web app functionality based on just the domain URL.

QyrusTestPilot seamlessly creates and executes complex test scenarios without manual intervention. It leverages generative AI for the identification of complex bugs that might be missed by manual test-building methods.

Trend #2

Comprehensive testing takes center stage
End-to-end Web, Mobile, and API testing capabilities are here to stay. Since comprehensive testing platforms span the entire software lifecycle, it eliminates the need for complex testing frameworks and cost-heavy infrastructure.

A comprehensive test platform replaces multiple-point solutions, delivering significant benefits in management, scalability, and test coverage. For instance, the latest automated website testing platforms like Qyrus can enhance test coverage by at least 80%. Multiple benefits accompany these, as illustrated in Figure: Why Qyrus.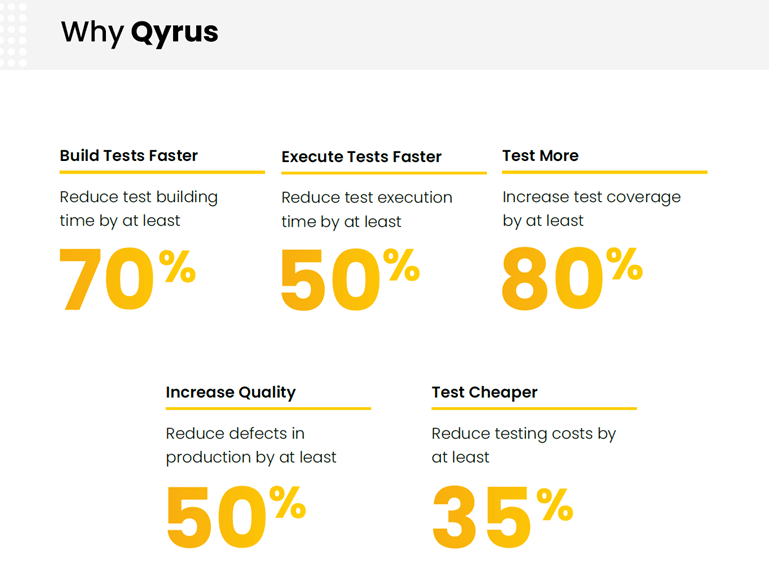 Next-gen testing platforms include comprehensive Website automated testing and test data management tools. Real-time insights that include test reports, analytics, and dashboards ensure maximum efficiency.

Comprehensive Web application testing tools also include features like data parameterization and global variables. These capabilities ensure optimal test building and coverage.

Trend #3

Codeless approaches amp up test automation
The low-code and no-code revolution has taken the developer community by storm over the last couple of years. Industry estimates indicate that this market will grow at a compounded annual rate of 28%, with a worth of $45.5 billion by 2027.

Software testing has also been a significant beneficiary of the low code, no code movement. Using low-code, no-code interfaces in Web application testing tools substantially reduce lead times and cost overheads associated with test automation.

For example, QA teams can quickly automate test cases using drag-and-drop interfaces or ready-made templates. These interventions mean that even less experienced users can rapidly scale test exercises.

Web application testing tools also leverage low-code, no-code capabilities for the automation of repetitive tasks like test case execution and data management. This frees up testers for higher-value assignments.

By nature of its definition, low-code or no-code software testing tools must offer easy-to-use yet customization-friendly UIs to be effective. Qyrus achieves this with a highly intuitive test-building approach.

With Qyrus, testers can leverage the platform's predictive step-building approaches to build tests faster. The tester can just type a simple description of desired test step functionality and select from the presented Auto-suggest options. This is complemented by powerful Test Recorder features for easy creation and import of complex Web tests.

Trend #4

Smarter test data management possibilities
Consolidating fragmented data sets like Excel sheets and databases is an eternal challenge in Web testing environments. The recent introduction of synthetic data further complicates test automation efforts.

Estimates indicate that synthetic generation will contribute 60% of the data required for AI and analytics project development by 2024. Reliance on multiple discrete data management tools impacts test speeds. The inclusion of intelligent test data management features in Web application testing tools addresses these issues.

Intelligent test data management mitigates challenges associated with distributed data siloes. Advanced website testing platforms enable testers to consolidate and manage test data from a single location. These solutions also include features to generate synthetic test data during runtime.

The Qyrus interface is a notable example of such intelligent test data management integration. With seamless data imports from databases or API calls, testers can ensure high test data speeds, Qyrus can also effortlessly generate synthetic data within the Test Data Management system at runtime. A suite of advanced test data management tools complements these capabilities.

Trend #5

Real-world Testing gets Device Farm to assist
Gone are the days of self-owned test infrastructure like device farms. On this front, virtual devices also fail to fulfill the need for Website testing in real-world conditions.

The need to deliver outstanding user experiences calls for testing at scales that are not achievable in-house. This is where cloud-hosted device farm services like Qyrus Device Infrastructure ensure that testers get unfettered access to world-class testing infrastructure.

Device farm services enable automated or manual Website tests 24x7x365, irrespective of the tester's location. Seamless provisioning features ensure instant availability to thousands of real devices, browsers, network types, and OS versions. Each device in Qyrus' device farm includes granular configuration and provisioning options that ensure end-to-end test environment design.

Features like on-demand scalability and high availability levels are the best benefits of opting for cloud-based device farm services. Qyrus Device Infrastructure also leverages AI to deliver comprehensive testing capabilities and insights.

Class-leading security is another benefit of opting for hosted device farms. For instance, the ISO 27001 and SOC 2 compliant Qyrus test cloud assures absolute peace of mind for our customers.