STAREAST Conference | April 30th – May 5th, 2023 | Qyrus
Gold Sponsors
Booth #35
Join us for STAREAST 2023!
‍

When: April 30th – May 5th, 2023 | #STAREAST
‍‍Where: Orlando, FL + ONLINE
We are excited to announce that we are a gold sponsor for the upcoming STAREAST 2023 event!
As a gold sponsor, Qyrus is proud to support this event and looks forward to connecting with attendees and sharing our latest innovations in software testing. Whether you join us in person or online, we look forward to connecting with you all and sharing our new use cases in software testing across industries.
‍STAREAST is one of the most prestigious software testing conferences in the world, bringing together leading experts and professionals in the field of software testing and quality assurance.
This year's event promises to be even bigger and better than ever, with an incredible line-up of keynote speakers, informative sessions, and networking opportunities.
Don't miss out on this must-attend event – mark your calendars for April 30th to May 5th, 2023 and join us at #STAREAST!
‍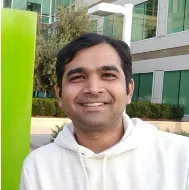 ‍
Speaker:
Ameet Deshpande
Senior Vice President, Product Engineering, Qyrus

Speaker Bio:
Ameet Deshpande is an Engineering generalist and a builder at heart with a focus on Quality Engineering, Product Engineering, Product Management, cross-functional team building and Agile.
He has been involved in many strategic initiatives at Quinnox and its clients, especially in Financial Services with primary experience in Quality Engineering, Cloud, SaaS, and AI. He was also involved in large-scale transformation programs as part of a consulting & architecture group within one of the top 10 Banks in the world.
Topic: The Rise of AI Bots: Strategies for Effective Testing & Quality Assurance
Date: Wednesday, May 3rd, 2023
Time: 11:30 am –12:30 pm PST
Description: COVID-19 has accelerated the development of contactless solutions. With bots/conversational interfaces being the most preferred way of quickly deploying self-service tech, the popularity of ChatGPT has proven that conversational interfaces are the most natural way of interacting with apps and the internet.
Key aspects of any AI-based bots are their ability to understand the user's intent and provide the right solution. With the advent of highly effective language models, it has become easier to build AI-based bots, but testing these bots is still done through scripted manual & automated testing. The conventional testing techniques are suitable for testing deterministic systems but do not suit AI-based systems well. The impact of AI on SDLC is inevitable, and Software testing is no exception.
This talk introduces a novel way of using AI to test AI using transformers which completely eliminates the need for reactive testing of bots through direct integration with Bot-building platforms, thereby cutting down the testing effort by > 60%.