Why are Device Farms the need of the hour?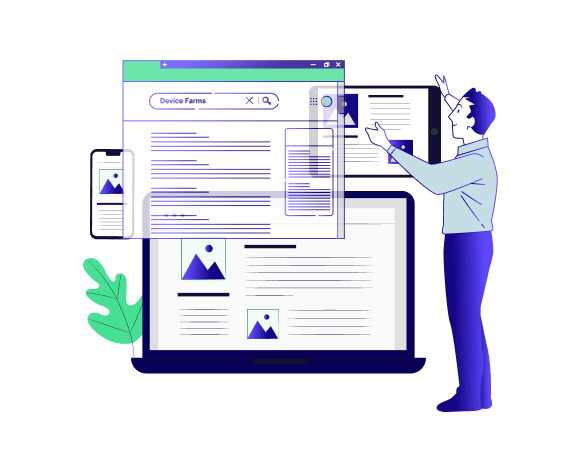 User expectations from apps, websites, and their associated brands are at an all-time high. For instance, 79% of your users are unlikely to return if your website performance is subpar.

It is essential to make every micro-moment count!

Smartphone adoption is witnessing a constant rise worldwide. The number of smartphone users grew from 3.6 billion in 2016, to 6.6 billion as of 2022. As per industry projections, we will have 7.6 billion smartphone users worldwide by 2027. If we consider just the U.S. population, these users check their smartphones 352 times every day. That is almost every three minutes. At the same time, over 255 billion mobile app downloads have been made across the world in 2022.

Amid this competition, your app or website has just one shot at making the cut. This is where customer experience and optimal app performance differentiate your role as a tester or developer.

Intelligent testing capabilities significantly improve customer experience. Such capabilities enable business change with lower risk and higher quality levels. This is where testing options like device farms enhance your QA team's toolkit.

That Elusive CX Factor
Today, development and testing teams face stringent release turnaround expectations. User experience is a common casualty of the relentless pressure to introduce new features and updates. Software testing using device farms delivers optimal user experiences in such environments.

Poor software quality is expensive from a financial standpoint as well. Recent estimates indicate that the cost of poor software quality in the U.S. amounts to USD 2.41 Trillion as of 2022. The average cost of an hour's IT downtime can be around USD 336,00 for businesses. Emerging legislation and industry guidelines will further escalate tangible losses attributable to poor software quality.

Unwavering quality standards and the need to reduce risk are given to software testers. In addition to the ever-increasing shortage of skilled QA professionals, multiple testing challenges hinder such objectives.

On the app and website fronts, the issues that impact customer experience testing includes:
Mobile device fragmentation due to different OS versions
Different screen resolutions
Frequent new device launches
Varying software upgrade cycles
Challenges with early comprehensive testing (in the dev stage)
Mobile application security
Simulation of real user conditions (for example, network bandwidth, permissions testing, or geolocation scenarios)
Different application types (Native and hybrid)
Consistent user experience

Device farms, aka device clouds, offer a fantastic way to ease app testing requirements. A case in point is the ready access to a live Android device farm for app functionality testing. Such a mobile device farm ensures that CX issues in a proactive manner.

The use of device farm testing for mobile and Web app testing is not a new concept. However, recent developments like AI's inclusion in the device farm have been a game changer.

Transform CX with Device Farms
Dedicated hosting setups like device farms offer substantial advantages – especially when compared to manual and automated testing on device infrastructure environments. It offers possibilities for developers and testers to explore every usage scenario using live devices.

For instance, an Android device farm is ideal to test software consistency across the highly fragmented Android OS. Legacy methods like manual testing are insufficient for testing mobile application functionality at such a scale.

The main challenges associated with manual and automated testing using self-owned device infrastructure are detailed in the following table.
| | |
| --- | --- |
| Manual testing challenges in self-owned device infrastructure | Automated testing challenges in self-owned device infrastructure |
| Cost-heavy and time intensive | Flaky tests and complexity |
| Probability of human errors and inconsistency | Cost and maintenance issues |
| Lack of scalability and automation | Limited coverage and integration bottlenecks |
| Difficult to track, report, and reproduce defects | Test script creation and test data management |
Challenges Associated with Manual and Outdated Automated Testing Processes

Device farm testing offers instant access to a wide range of real-world conditions, devices, OS versions, simulators, and emulators for testers. The on-demand nature of these services eliminates issues like maintenance and CAPEX associated with self-owned infrastructure. At the same time, these environments are optimized for highly scalable testing – at a global level. For instance, the option to have a mixed mobile device farm or a dedicated Android device farm that can scale on demand is a boon for software testers.

Many older device farm models suffer from scalability, cost, and reporting functionality constraints. The lack of a seamless user interface aggravates these issues. Insufficient comprehensive test coverage is another setback in legacy device farms. Such deficiencies manifest themselves during customer experience improvement necessities like functional or visual testing requirements.

The AI Advantage
Next-generation device farms like Qyrus Device Infrastructure address the limitations of other approaches in an end-to-end manner. Our AI-powered device farm testing service uses a three-pillared design philosophy – those of power, performance, and privacy.

The cloud-based service from Qyrus features a full-fledged, highly secure device farm at the backend. Your QA team has 24×7 access to a wide range of smartphones, tablets, mobile devices, and more. An intuitive and feature-rich UI ensures seamless interaction with these live devices.

Qyrus Device Infrastructure service supports testing on legacy 2G and 3G networks to ensure holistic test coverage. This is backed by automated parallel testing features that scale up QA productivity levels. The service also enables your QA team in scenarios like in-depth testing of edge cases. Such use cases can benefit from Qyrus' test bed features like the Android device farm.

The Figure – Qyrus Device Infrastructure: An Overview provides a quick behind-the-scenes perspective of our service.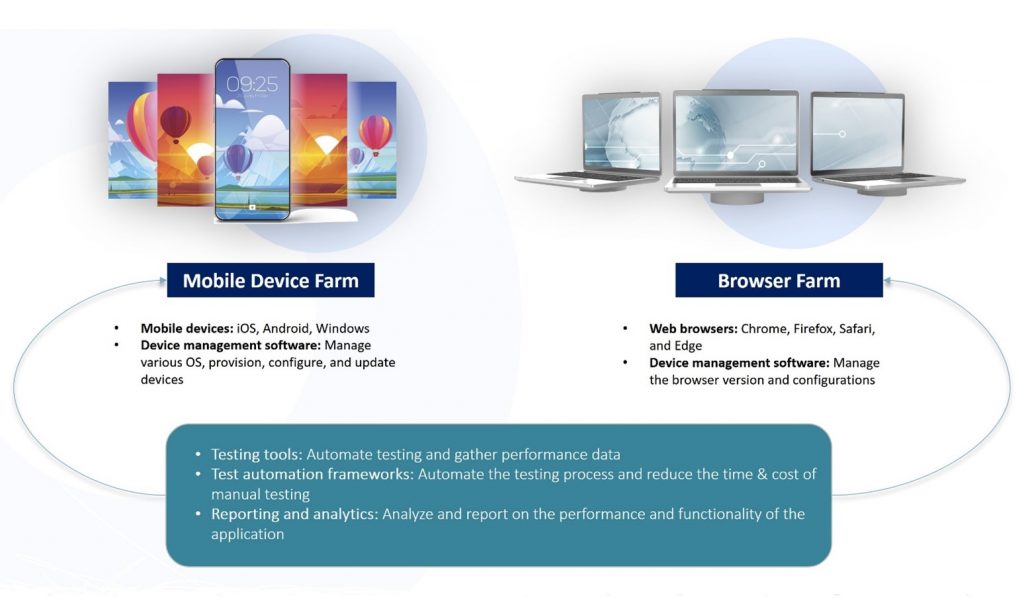 Qyrus Device Infrastructure: An Overview
End-to-end device management, test automation, access controls, advanced analytics tools, and reporting capabilities set Qyrus Device Infrastructure service apart from the competition. The salient features of Qyrus Device Infrastructure include:
AI-powered actionable insights for accurate troubleshooting
Rich visual and data-driven reporting
Unique interruption testing to account for real-world usage
Powered by Rover AI
Highly scalable and dedicated mobile device farm with granular test management
Intuitive system administration to accommodate every use case
SOC 2 and ISO 27000 compliant platform
Support for popular open-source frameworks

Enhance every micro-moment
Selection of the right device farm testing service is a major step towards increased shift left capabilities. For example, integration of Qyrus Device Infrastructure with your development workflow is a fantastic way to accelerate end-to-end test automation.

The ready availability of comprehensive AI-powered insights for predictive action is another game changer. It enables the design of new tests based on the issues identified using a mobile device farm. This timely intervention mitigates issues that affect customer experience. Comprehensive test automation platforms like Qyrus provide a codeless interface that streamlines such exercises.

Drive the quest for an exceptional user experience in every interaction with Qyrus Device Infrastructure. Contact us today to learn how you can exponentially increase the coverage of digital experience tests with device farms.